Coordinates

88° 11' 3"
50° 45' 13"
The Infamous Ogoki Reservoir
These next pictures describe Mojikit CH North which is a new structure built in 2012. It is a beautiful camp which features three private bedrooms. This camp has all the good stuff including a thermostatically controlled wood burner, and just wait till you see the huge screened in porch. Comes with standard hot and cold running water, radio comunications, large freezer, gas grill. This camp also features an screened in fish cleaning house with stainless steel sink and running water.
This camp is located at the entrance to the Ogoki Reservoir then running south to Mojikit Lake. Great fishing. great comfort and accommodatons, plus let's not forget about the Deluxe Lund 16's with electric start 15hp Mercs.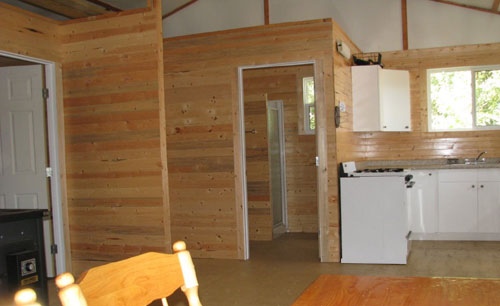 "The fishing is here is stupid good" in the words of one group as they excitedly explained how their week went. It's one way I suppose, of describing the fishing at Mojikit Channel".
In 1939, as a part of Canada's war effort, the north flowing waters of the mighty Ogoki River were diverted south to provide the needed water power for electric generation. When the dams were closed in 1942, what had also been created was a magnificent fishery.
As the Ogoki River winds it's way north to the Albany, it passes through the Ogoki Reservoir and thanks to this creation, joins with Mojikit Lake which together boasts over 60,000 acres.
Ogoki Frontier's camps are located on the sheltered channel joining Ogoki Reservoir with Mojikit lake. Just out from our South camp is a submerged 20 foot waterfall (as a result of the diversion) for those who need a quick fishing fix.
These camps have all the good stuff which includes Lund 16 boats complete with flat floors and Merc 4-stroke 20's. The screened in fish cleaning house feature running water and a stainless steel sink. The camp is quite roomy with solar for quiet electricity and solar water for residential style water pressure. So comfortable you may want to stay a bit longer.
And like we said .. "big water - big fish".
When you fly in it is still possible to see some of the remnants of horse trails built in the 30's.
Over 40 miles end to end, we now have this magnificent 60,000 plus acre sportsman's waterway. Where the Ogoki Reservoir meets Mojikit Lake is the sheltered Mojikit Channel. What was a fall of 20 feet is now the fast water that flows past our two beautiful camps. Relax. We are talking current that walleye love not white water.
As for the fishing; Big walleye is probably the best way to describe it. Folks are generally absolutely delighted at the size of the walleye, and for the Pike hunters 30 inch plus is the starting point.